CLOSED: HANAH New Year wellness giveaway
CLOSED: HANAH New Year wellness giveaway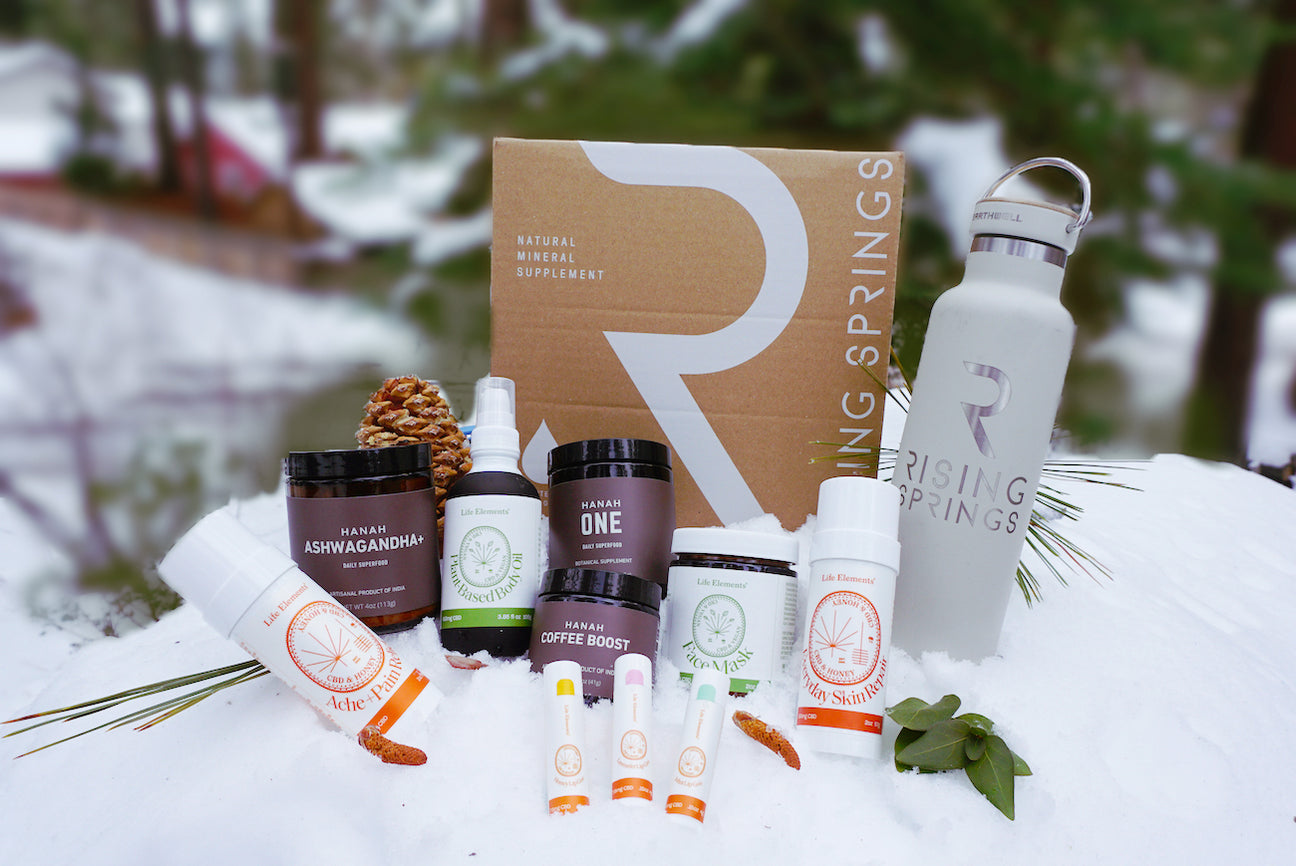 Start your New Year with HANAH, Rising Springs & Life Elements
Welcome to the New Year, 2020! We are excited to team up with Rising Springs and Life Elements to give one lucky winner a prize pack full of the perfect wellness products to kickstart your New Year. We are honored to be aligned with small-batch, high quality companies whom take pride in their products and their effects on the health of our bodies and the Earth.
Enter your email below to qualify:
Details
Giveaway ends Sunday, January 12th at 11:59pm PST. One entry per customer and valid only to those of 18 or older and residing in the US. Winner will be chosen and notified on Monday, January 13th via email. Good luck!
What you will win:
Rising Springs is one of the deepest known natural springs, flowing up under its own pressure from an astonishing depth of 2.2 miles. As it rises up from 2.2 miles deep, through cracks and fissures in the dense granite Idaho Batholith ("deep rock" in Greek), the water is protected for the entirety of its 16,000 year journey by the granite and its own tremendous upward and outward pressure. The water rushes through miles of silica quartz crystals, absorbing energy, a light minerality and a unique redox potential. 
Life Elements is a California-based body and skincare company that specializes in using earth-derived ingredients that are good for you and good for the planet. Each product is handcrafted, cruelty-free, and uniquely formulated to deliver head-to-toe relief. Life Element products feature a harmonious blend between honey and cannabidiol. The hemp-derived CBD used in our products is organically grown in Colorado, third-party tested and contains 0.0% THC. Our honey is ethically-sourced, which means it only comes from hives that are overflowing. 
HANAH's mission is to preserve ancient traditions and adapt them into remedies for modern living.  HANAH works closely with partners in Kerala, India, and the Kingdom of Bhutan to create authentic products sustainably and ethically sourced, while supporting local communities. We source the purest ingredients found only in their native environments and produce all of our ingredients and products honoring ancient traditional methods to ensure they retain their original quality and efficacy. As a result, our products deliver results you can feel.
2 jars of HANAH ONE – our flagship blend is comprised of 30 wild-harvested herbs in a base of honey, ghee and sesame oil. Our best seller with unique flavor and jam-packed with health benefits. We recommend taking this daily right off the spoon or mixed into your coffee, tea or smoothie. 
1 jar of HANAH Ashwagandha+ – Keralan Ashwagandha root in powdered form. Often loved as an addition to a pre-workout smoothie.
1 jar HANAH Coffee Boost – Keralan coconut milk powder combined with three powerful nootropic herbs: Mucuna, Bacopa & ashwagandha. Perfect addition to coffee, tea & smoothies for added creaminess and a boost in mental clarity.
**Be sure to follow HANAH on Instagram to keep up to date with the giveaway and increase your chances of winning by liking the post, following Life Elements & Rising Springs and tagging a friend who may also enjoy winning this wellness prize pack to kick off your health goals in 2020!
Check out these recipes including the items in the above HANAH prize pack:
Like this post? Share it!