HANAH Hero and world traveler Bibi McGill shares 5 easy tips for staying healthy
HANAH Hero and world traveler Bibi McGill shares 5 easy tips for staying healthy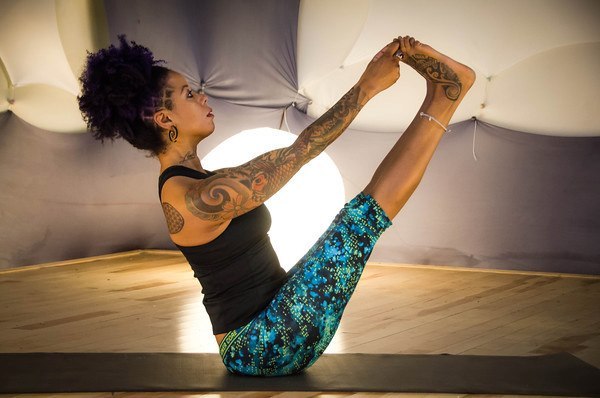 An internationally renowned guitarist, HANAH Hero Bibi McGill is not your typical rock star. The Portland-based musician, who toured with Pink and Paulina Rubio before spending 8 years as lead guitarist and musical director of Beyoncé's all-female band, is also an acclaimed yoga teacher, wellness educator and health food entrepreneur.
Read more about Bibi in our HANAH Hero announcement here.
How I maintain my health and well being
By Bibi McGill
Sure, I've toured the world multiple times with pop stars and now I'm an international jet setter sharing yoga and wellness. Trust me, it is not all glamorous. Believe me, it's more work than most are willing to do but to make it sustainable and enjoyable, you must take responsibility for your own health and well being.
In my 16 plus years of touring I feel I've got it down, at least for what I need. Here are a few tips I would recommend for the lazy couch potato, the extreme sports athlete and everyone in between.
Hydrate. Drink pure, clean, spring water that has not been tampered with by man. Drink lots of it and keep your organs, glands, bones and muscles nourished by water. It's fuel for your brain and encourages your body to create its own natural energy.
Eat healthy (and HANAH ONE). It is very important to eat as much fresh and healthy food as possible while on the road. The body is a finely tuned machine and food is the fuel. Having HANAH ONE on hand plays a substantial role when I'm travelling, especially when quality choices are limited. I add it to smoothies and teas or take it straight to boost immunity and help maintain my energy levels, focus and calm.
Get moving. Find a practice you can do every day or at least 3-5 times a week that moves you. Whether it's yoga, basketball, hiking, the gym or simply taking your dog for long walks, it's important to move your body. Moving your body not only improves cardiovascular health while keeping your limbs, joints and muscles more open and flexible, but it improves cerebrovascular health. A wide range of recent studies have found that exercise improves brain function, structure and connectivity. These brain improvements are directly linked to improved learning, memory and cognitive function. If you don't use it, you'll lose it so… keep it moving.
Respect all life. Stay connected to nature maintain the highest honor for all Living Beings.
Be grateful. Life is challenging, you're gonna be hurt and disappointed over and over, things won't always go your way. Be hurt, be disappointed, feel your emotions and don't detach or numb yourself from feeling. However, don't stay there either. Embrace it all and then look for all the gifts, blessings and miracles that have occurred in your life and keep saying, "Thank You… I love ME."
VIBRATE HIGHER!

Follow Bibi on instagram @bibimcgill and facebook at www.facebook.com/bibi.mcgill.  Follow her and stay tuned for HANAH ONE give away contests. 
Learn more about our HANAH Heroes here.
Like this post? Share it!