How HANAH HERO Michelle Parker pursued Mastery in the mountains after a potentially career ending knee injury
How HANAH HERO Michelle Parker pursued Mastery in the mountains after a potentially career ending knee injury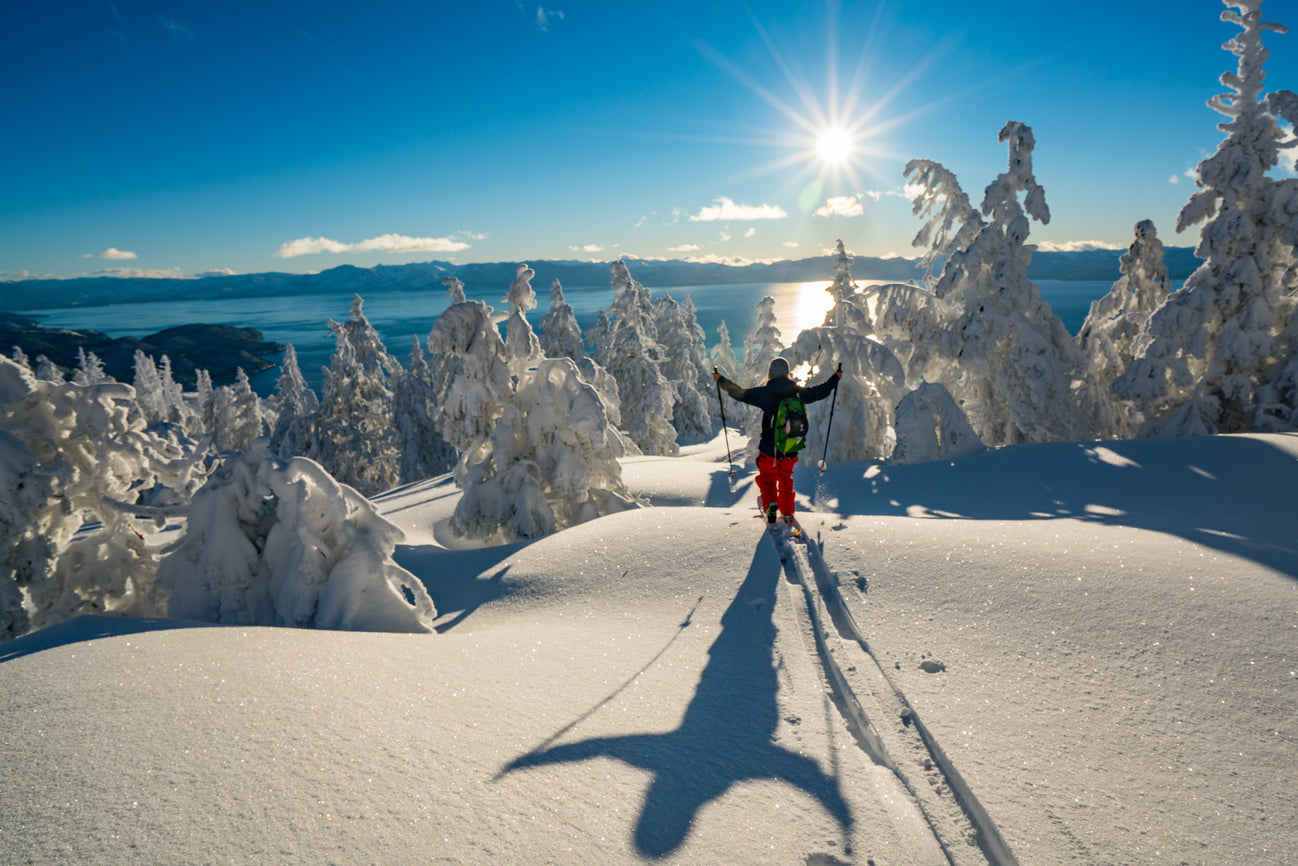 Part one of our Mastery series with Michelle Parker
In the history of knee injuries, there have been some infamous ones. Minnesota Vikings quarterback Teddy Bridgewater's was so bad that it made fearsome 300-pound linemen turn away in abject horror. Shaun Livingston's decimation of every major ligament was an on-court explosion that still haunts the NBA players who witnessed it.
Yet as severe as these incidents were, they pale in comparison to what happened to Michelle Parker when she took a 70-mile-an-hour tumble down a mountain. When your kneecap ends up on the back side of your leg, you know you've got a serious problem. And unlike in Major League sports arenas where there are team doctors and PTs standing by, crashing and burning in the backcountry necessitates agonizing hours of waiting for a helicopter evacuation.
This catastrophic injury not only left Michelle with a literal and figurative mountain to climb during months of rehab, but also led to her sponsors falling away. Suddenly, one of the most promising freeskiers of her generation was facing the possible end of her career, the loss of her livelihood, and foreclosing on her mortgage. Such a situation would have crushed many people, but somehow Michelle returned to full fitness and, at the risk of sounding cliche, came back stronger and wiser.
While between photoshoots and filming segments, she spared us an hour to discuss resilience, her groundbreaking six-part Red Bull TV show Originate, and the role of mentoring in her never-ending pursuit of mastery.
What does mastery mean to you?
To me, a master is someone who has dedicated the greater part of their life to something they're passionate about. When you reach age 30 you could've already put in 10,000 hours into this activity, but there are always new ways to grow and progress. For me, that has been to continue getting better as a skier, but also to improve as a mountaineer and learn more about snow conditions. I've never thought of myself as a master, but I'm continually pushing to learn and get better.
How do you apply a mastery-focused approach to your career?
The more you say yes to a lot of different opportunities, the more you grow and the more wonderful people you meet. Even when those experiences are scary or uncomfortable initially. But now I recognize my tendency to say yes to everything, and have started to think about what I need to do before I go for something. So I have a grid with four squares – money, passion, people, and location. A trip must land in at least three of these four boxes for me to do it. If I say yes to something, what am I going to be saying no to? This process is helping me filter and prioritize better.
With social media, people want everything to be instant these days, and companies are using influencers to market their products. These are often just shortcuts. For me, it's all about going on trips and actually doing the thing. Skiing might be my job in a sense, but it has never felt like that. I'm always finding new ways to keep it fun and challenging. I try to maintain an open mind for the long game and stay passionate.
With global travel, skiing, filmmaking, and everything else you've got going on, how do you achieve balance?
To me, being balanced is all about centered decision-making. That's what keeps me grounded. If I think about my life as a stool, the three legs would be my family, my relationship, and skiing. Sometimes one of these legs might be longer or shorter than the others for a while but when I have a goal I'm pushing toward, I accept that it's OK to be a little tippy. I've had to let go of expecting everything to be perfectly balanced all the time. I also make space for more mundane things like working, having coffee, or just thinking.
What's a skill you want to learn or develop in the next year?
I just got a splitboard and am excited to experience the mountains on it as a new challenge. When you do something the first few times you aren't very good, but that means you can see rapid progress. Riding with my snowboarder friends gives me a different feeling and perspective than I get on skis. They're so playful. I have a need for speed, but I also like to get creative, so riding the splitboard is going to keep things interesting. I'm also trying to learn more about snowpack and how group dynamics impact avalanche awareness.
What is it about the mountains that keeps you coming back?
Spending time outside regularly is reenergizing and makes me feel more connected. Initially it was all about my love of skiing, but while this hasn't waned, I've come to appreciate other aspects of being out in terrain. In the past few years this has meant enjoying all the elements. Even when conditions are harsh standing in a chute at 4 AM with the wind blowing through, I welcome that. Then there's the community aspect. When you're out exploring ridgetops year-round you form deep relationships. When you leave, you have a new tribe and know how to communicate without words. A lot of my most important friendships were born and bred in the mountains. I do enjoy solo trips, but always long to share those experiences with friends.
How has mentorship shaped your life and career?
I've had a lot of mentors but if I had to just mention one, it'd have to be JP Auclair. Even though he has passed away, the lessons he taught through his actions will always be with me. I met him when we were on the same ski team and we traveled the world together for eight years. He could do anything in snow – moguls, slopestyle, freeskiing, mountaineering. JP was so involved in all of his projects and wasn't just in front of the camera, but also filming and editing as well. He cared so much and had so much compassion for others. Being around JP opened up many new possibilities to me to develop my skillset. His perspective and experience were important because I was an impressionable 18-year-old. JP helped me learn to see the positive in any situation, whether it was an injury or losing a friend. Another thing I gleaned from him was working hard and persevering no matter what.
Speaking of which, how did you bounce back from your knee injuries, particularly after most of your sponsors dropped you?
After I got hurt, I was juggling a lot of things. There was the physical rehab aspect, the loss of income, and, as you said, the sponsors. I was 23 and thought I was going to lose my house. I had to return to my Dad's positive perspective on life. I realized that I could go back to school and learn something new if I couldn't ski anymore. But I was also determined to try my best to return to skiing, keep making phone calls to potential sponsors, and fight for this thing I love so much. So I brushed off the injuries and picked myself up. Looking back, I don't view it as a dark time but rather a growth opportunity. When I got hurt it taught me something valuable and I accepted the challenge to push through my pain even though in some PT sessions I was screaming. Then I put in the work to come back. One day I was crying and my Dad came up to my room. I expected him to comfort me, but he said, "Crying is not going to help you." From that point on I decided to set a timer for 10 minutes to listen to some sad songs if that was how I was feeling. When that timer went off, it was time to be a warrior again.
Check back soon for part two of Michelle's Mastery interview.
If you'd like more from HANAH Hero Michelle Parker, take a peak at HANAH Rituals with Michelle Parker and Mark Abma while traveling in Japan, here.
Want more mastery from some of the greatest athletes of all time? Click here to join Kit DesLauriers, the first woman and person to ski from all the seven summits of the world, as she discusses what it's like to be on the top of the world.
Photos by photographer Ming Poon
Like this post? Share it!