Mark Abma's journey to living off-the-grid
Mark Abma's journey to living off-the-grid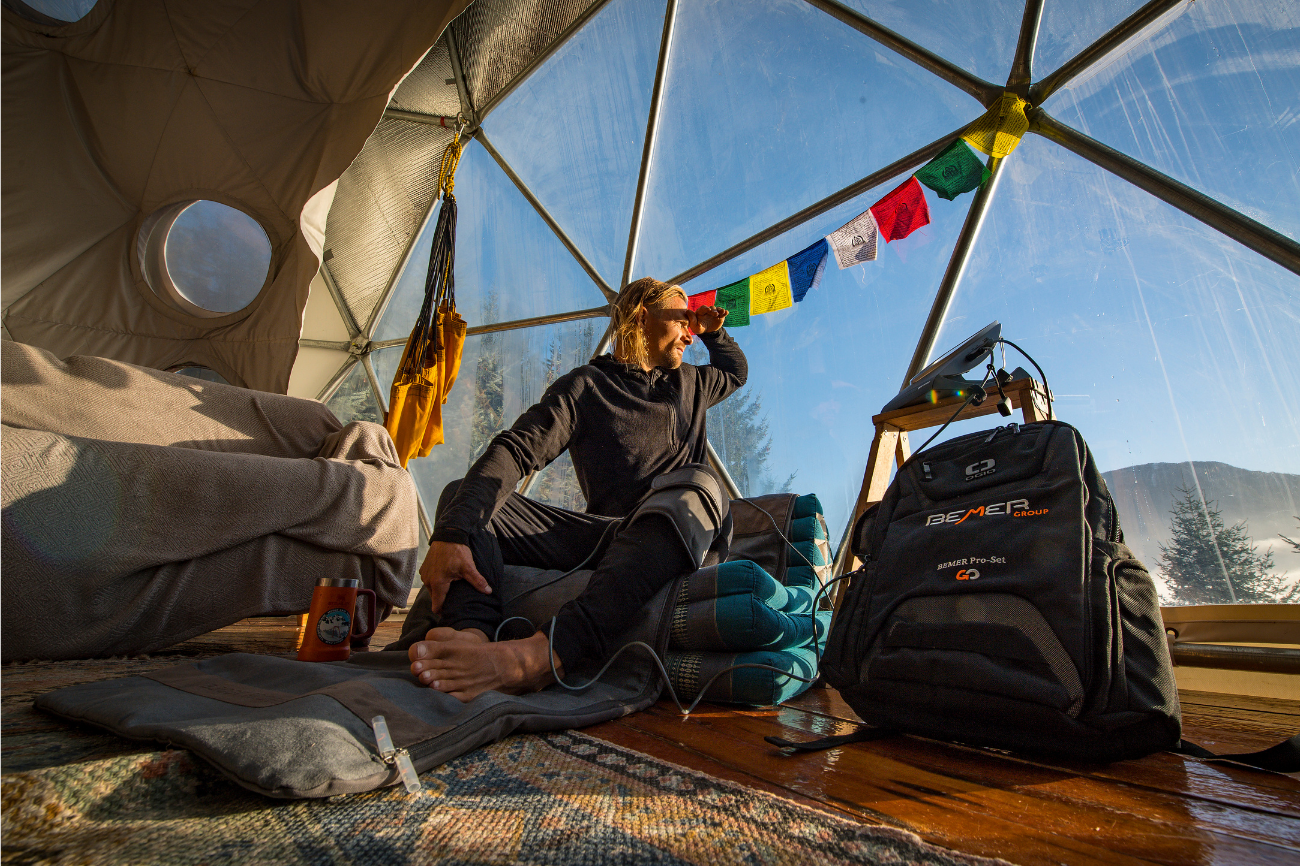 How the athlete is finding balance and creativity by reconnecting with nature
It is not everyday that you see the average person driving around in a car fueled by vegetable oil. Usually, it's the ultra-committed and fanatical that would go this above and beyond to help the earth. If you saw Mark Abma 15 years ago driving in such a vehicle, you might've thought he was destined to live off-grid, learning to create natural energy. The pro skier's journey to his off-the-grid development, Concept Neverland, was fueled (not by vegetable oil) by a combination of passion for sustainability and natural curiosity.
At the time, Mark lived in a small town home where he didn't even have enough room to start his own garden. Although his living situation did not permit growing his own food, he continued to research and learn more about the benefits of creating your own food supply and power from natural resources. After learning about off-grid communities using water turbines as power, Mark began his search for a property near a creek to finally make his dream into a reality.
The search took him North of Whistler to Pemberton, British Columbia where organic farming and clean air and water are the norm. With no blueprint, no electricity and only accessible by boat, Mark and Chris Turpin (fellow pro skier and friend) hacked into their creative reserves and strategic thinking to develop what is now known as Concept Neverland.
"[The biggest health benefit of living off-the-grid is] Being put into a creative space, which for me is a fun place to be in. You kind of have a blank canvas to create your life… [it] allows you to think more creatively."
Although creating your own off-the-grid establishment complete with a dome structure, hydrotherapy spa and organically grown food sounds all fun and games, it took Mark and Chris a lot of trial and error. "You really have to simplify and do a lot of things by hand," Mark described the experience. With no running power, the group was forced to simplify and do a lot of things by hand. In order to use power tools when they absolutely needed to, they had to learn to conserve. "You become super conscious and considerate about the energy you are using," he adds.
Developing Concept Neverland was the catalyst of a whole lifestyle change for Mark in which he transitioned to very simple living. Whether it was working with the elements, making power out of running water or transporting large materials via boat, Mark needed to think outside of the box to get the job done. He recalled for us, "There was a ton of learning in everything, and that is the main reason why I put myself in that position—to learn." The struggle and hard work paid off, because Concept Neverland gave Mark the space to recenter and reconnect.
Living off the grid not only provided a space to de-stress, but also a healthier and happier environment. The simple, off-the-grid lifestyle forces you to use your body more and move. Mark describes walking around barefoot absorbing positive ground frequencies, resulting in an overall reset to mind, body and spirit. "When you get back to the land, it's a reset to your body," he said. Additionally, minimal distractions allow for a higher level of focus and mental clarity.
"At the end of the day, balance is what I am striving for which is what Concept Neverland did for me—balanced the life that is apart from normal society's structure."
Concept Neverland is still a work in progress. In the coming year, Mark plans to enhance the power in their dome structure, set up a yurt, build a kitchen, deck and living room, and stabilize all the rest of the living essentials. Also, on that list of to dos: Share the experience with others.
Within the next year, Mark wants to open up Concept Neverland for retreats and individuals to relax, but also learn more about sustainability. He hopes that Concept Neverland will be a space where people can reconnect with who they are, so they can discover their purpose. "Sometimes we just need some space and silence or walking through nature to remember what's really important to us," he told us. He emphasizes that it is not one specific thing that is going to help recenter people, but getting back to our roots where we find balance in food, sleep, nature, etc.
Getting to a space where you feel reconnected and free can take some work. As Mark told us, creating Concept Neverland was no easy task in any way, but in the challenge to learn, he bettered himself, and had fun doing it. When asked what are his next steps in this journey, Mark answered: "It's really taking me to the unknown. I don't really know what thing I am going to learn next. That is what I love—reinvoking that curiosity. Through living in the space, that's where life will reveal that next step for me. That is part of mediation—creating space and silence for yourself so that you can make the next best decision for yourself. Try to share with others. Try to inspire others."
Follow along with Concept Neverland here. 
Want more Mark Abma? Check out these blogs:
All photography by Eric Berger
Like this post? Share it!