*Giveaway closed* Nourish your body like yoga master and health coach, Shayna Hiller
*Giveaway closed* Nourish your body like yoga master and health coach, Shayna Hiller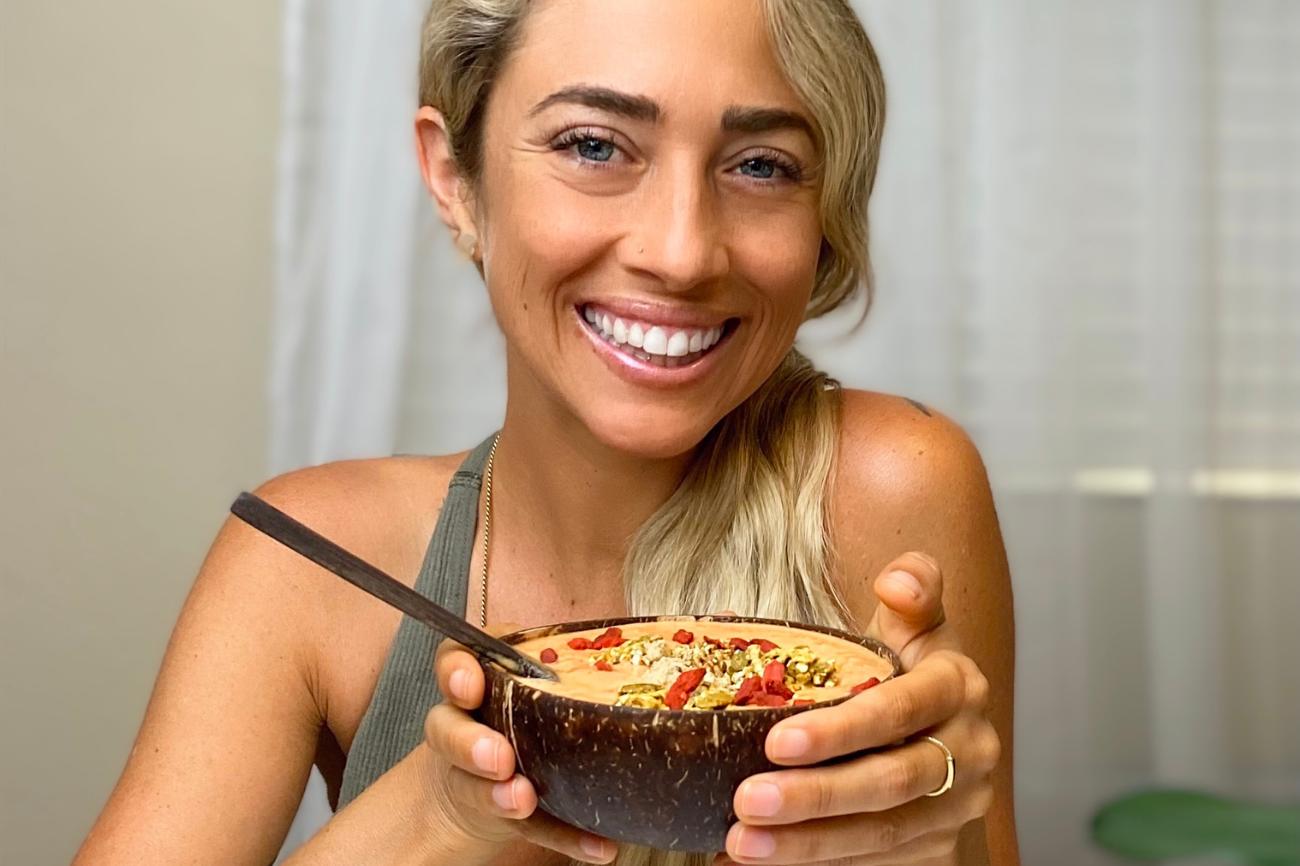 Enter to win a healthy eating prize pack worth over $300!
Easy, convenient, high-quality and delicious are not words that you will commonly find in the same sentence when talking about eating healthy. Often, we have to compromise high-quality for convenient or delicious for easy. But what if you didn't have to compromise? To create a nourishing meal that checks all the boxes, we rounded up our favorite healthy brands and enlisted the help and expertise of yoga master and health coach, Shayna Hiller. What she created is an all-in-one smoothie bowl consisting of the purest, high-quality ingredients that's bursting with flavor and nutrients. Keep reading to explore the ingredients and full recipe, then head to our Instagram page to enter to win (closes 5/6/21 at 11:59pm PST).
HANAH ONE and HANAH Ashwagandha+
Get your fix of energy-sustaining, immunity-boosting adaptogens from wild-harvested herbs with HANAH ONE daily superfood and antioxidant-rich Ashwagandha+.
"HANAH is the icing on the cake! Knowing that my smoothie bowl contains Ayurvedic herbs and healing ingredients makes me feel completely nourished in body, mind and soul and naturally energized."
LiveMore Organics Smoothie Cups
The ONLY 100% certified organic frozen smoothie cup on the market? Yep. LiveMore Organics brings farm to table in four, convenient combinations. Visit website
"What I love about LiveMore is the fact that all the ingredients are organic and there is nothing added. I also love how there is a little dotted line that indicates how much liquid should be added to the smoothie. Bye-bye smoothie recipes! This is so simple and intuitive."
Goodmylk Co.
Refusing to compromise the nutritional integrity or flavor of their plant milks, Goodmylk Co. brings a plant-based milk product for the busy and quality-conscious. Visit website
"The same goes for Goodmylk—simple and intuitive. It is difficult to find a prepackaged, non-dairy milk without added ingredients. Oh yeah, and it's DELICIOUS too!"
Lil Bucks
Whether it's the sprouted buckwheat crunch or the adaptogenic buckwheat clusters, this alternative to granola will satisfy your crunch craving and provide the protein, fiber and antioxidants to fuel you for the day. Visit website
"Lil Bucks adds the delicious crunch I'm always looking for, with the added benefits of adaptogens. I love chewing, and I also love smoothies. This is the best of both worlds!"
Coco Bowls Co.
Coco Bowls was born of a love for food, travel, health, sustainable living, and the belief that commerce can be a force for good. They are a social enterprise dedicated to improving people's lives by re-purposing coconut shells into beautiful Bowls to be enjoyed with delicious, healthy meals. Visit website
"Who doesn't love eating smoothies out of well-made coconut bowls?!"
Shayna's morning wellness smoothie bowl recipe
Ingredients
Toppings
Accessories
Instructions
The night before your smoothie bowl, place your Goodmylk packet in the fridge to thaw.
The next morning, pour the contents into a reusable container, add 22 ounces of water and stir!
Pour the Mind Over Mango Smoothie Cup, ½ cup of the Almond Mylk, and 1 tsp. of HANAH Ashwagandha+ into your blender.
Blend until you've reached a smooth, thick consistency and pour smoothie into a Coco Bowls coconut bowl.
Take a handful of Lil Bucks Chocolate Reishi Clusterbucks, 1 tbsp of the Lil Bucks Crunch, and goji berries
Scatter them on top of your smoothie bowl.
After scattering the toppings on your smoothie bowl take 1 tbsp of HANAH ONE and drizzle it over the entire bowl.
Take a moment to relax and enjoy using the 100% natural wooden spoons and bamboo straws from Coco Bowls!
Don't forget to visit the dedicated giveaway post on our Instagram page and enter to win these products in a prize pack worth over $300 (closes 5/6/21 at 11:59pm PST).
Like this post? Share it!