HANAH in Bhutan: Savory yak butter tea
HANAH in Bhutan: Savory yak butter tea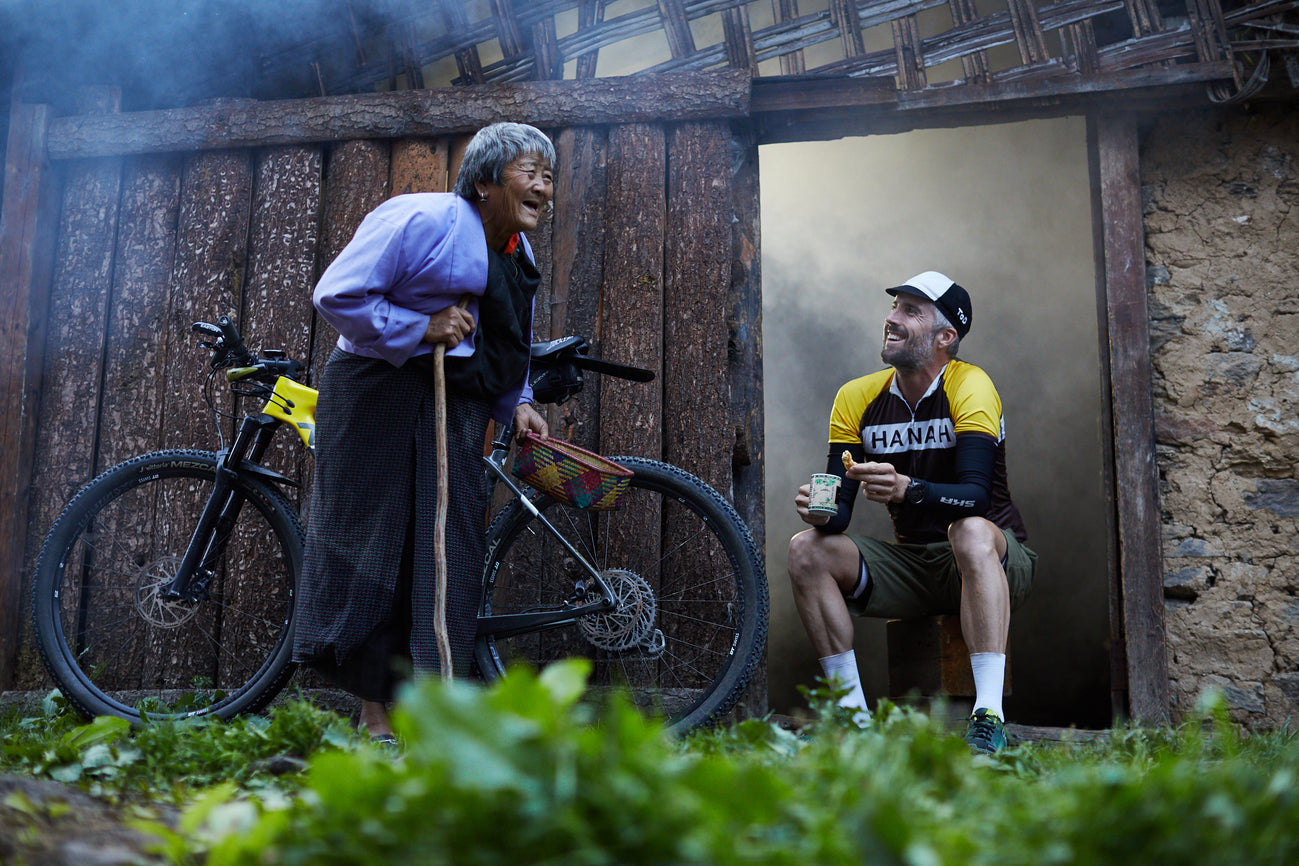 While in Bhutan for the Tour of the Dragon mountain bike race, the HANAH team was able to partake in many traditional customs of the kingdom.
Join HANAH Founder Joel Einhorn and photographer Justin Bastien as they travel deep into Bhutan to the district of Bumthang, the spiritual heartland of the kingdom, for a visit with a local family as they share how to make traditional yak butter tea, or suja.

Dating back to the seventh century, yak butter tea is a time-honored drink in the Himalayas, particularly in Bhutan, Tibet and Nepal. This savory tea is ideal for high altitudes and cold temps as it provides plenty of caloric energy. Butter tea is also the origin and inspiration for the "Bulletproof coffee" trend that is said to help boost energy and brain power, aid digestion and stave off hunger.

Making authentic yak butter tea is a long and ceremonial process. First, tea leaves are added to a pot of boiling water. Once the water turns a deep brown, the tea is strained into a long wooden cylindrical churn called a ja su. Salt and yak butter are added to the ja su and the mixture is churned until the proper consistency is reached. The tea is then transferred into a copper pot and kept warm by the fire, ready to share with guests. Bhutanese also serve delicious homemade khabzay biscuits and roasted puffed rice with tea.
Director/DP: Justin Bastien
Editor: Matt Dunlap 
Color: Beau Leon, Framestore
Music: Sonam Dorji, Smithsonian Folkways
Modern HANAH Ghee Tea Recipe
Authentic yak butter tea is an acquired taste, but the modern version of butter tea has allowed more people to appreciate the savory mixture of tea, salt and butter. Try a cup at home with this simple recipe.
Boil six cups of water and soak two tablespoons of good strong tea for 15 minutes.
Strain the tea, add 1 heaping tablespoon of HANAH Vechur Ghee (or 2 tablespoons of butter) and ¼ teaspoon salt. The modern version of butter tea also makes use of cream or milk, if desired.
Pour the mixture into a blender and blend on low until well mixed.
HANAH's herbal remedies from Bhutan
HANAH offers two products directly from Bhutan that are sustainably hand-harvested, intentionally blended and energetically balanced based on the Sowa-Rigpa, Bhutan's 2,500 year old book of medicine.
HANAH Cordyceps+ is a combination of wild Cordyceps sinensis, a rare and powerful Himalayan medicinal mushroom, with eight other herbs and minerals known for their potent healing properties. Our Cordyceps sinensis is sustainably wild-harvested by local villagers at high altitudes in the Himalayas of Bhutan. These nine herbs have been used together for thousands of years in traditional Bhutanese medicine to support mental and physical stamina, vitality and immunity.
HANAH Turmeric+ is hand harvested by a Bhutanese women's collective of growers following ancient traditional methods that ensure sustainability and purity. Curcumin, the active compound in Turmeric, has been shown to improve digestion, alleviate inflammation throughout the entire body, increase joint mobility, support heart health and improve your overall mood and sense of wellbeing. HANAH Turmeric+ also contains black pepper, which has been shown to improve curcumin absorption by up to 2,000%. Your purchase of this product supports these remote growing communities and the rich biodiversity of Bhutan.
Check out the HANAH blog to learn more about Bhutan
More butter tea-inspired recipes
Like this post? Share it!