Welcoming winter with pro skier and outdoor adventure guide Amy David
Welcoming winter with pro skier and outdoor adventure guide Amy David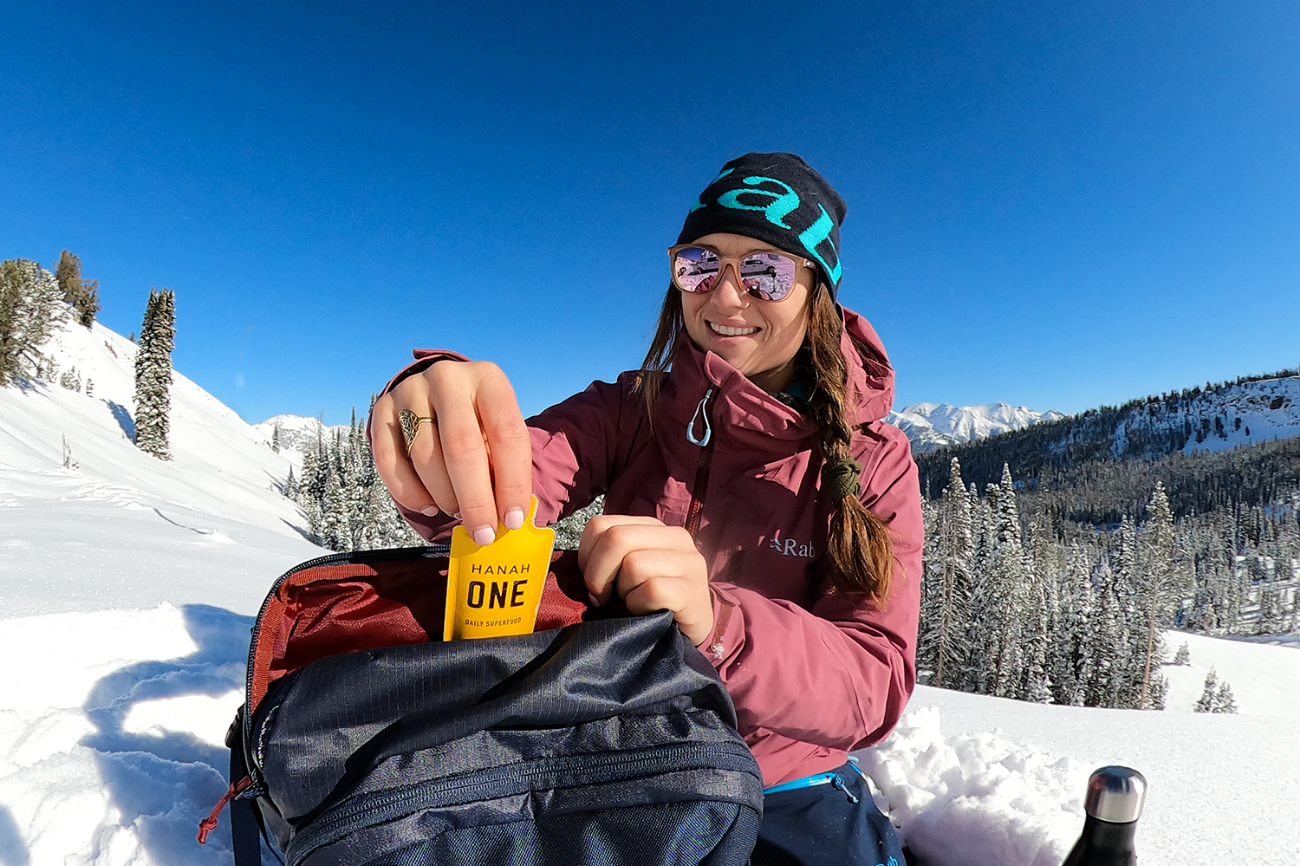 Mountain lover and outdoor adventure athlete, Amy David, shares how she finds balance in winter with a synergistic approach
Winter brings with it a notorious plethora of changes. Whether it is adjusting to the colder temperatures and shorter days, craving comfort foods, or an all-consuming excitement to hit the slopes, it can take intentionality to adjust to the winter season.
In this series, we take a look at how some of the most inspiring athletes and wellness experts welcome winter. It takes more than just willpower to adapt to this season, and each person has their own tips, rituals and philosophies to keep up with their goals while still finding time for enjoyment. Get inspired by the mental, physical and emotional approaches these seasoned winter veterans take to make the most of this winter.
About Amy
Amy is a professional skier and outdoor adventure athlete. During summer months, she guides wilderness backpacking trips for Sawtooth Mountain Guides and is the Retreat Director and lead guide for And She's Dope Too world-wide women's collective. She is the owner and founder of Action Inspired Productions, curating multi-media content as the writer, producer, and on-camera talent telling inspiring stories connecting people and the planet. Her work has been featured on Outside TV, Discovery Channel, Women's Health Magazine, TetonGravity.com, Outside Magazine, Universal Sports TV and many more.
Welcoming winter
Growing up with both grandparents and parents who managed ranches in the winter may give Amy David an edge in adapting to winter. Nonetheless, she admits she requires a different type of focus as the winter season approaches. The skier, backpacking guide and producer lives up to her excitement and anticipation for winter by honing in on her nutrition, training and mental health.
Amy dedicates herself to preparing not just for the physical demands of winter, whether it be skiing or snowmobiling, but for the mental. Routine and rituals play an important role in Amy's drive, focus and success as she tackles the season's activities.
"Developing and maintaining a consistent routine that helps me stay focused and set my day to achieve goals is important."
To reach those goals, Amy doesn't cut any corners. She describes her main focus this winter as synergy. Instead of focusing on one thing rather than the other, the aim is to infuse all the different aspects so that every little piece of her day works together. From yoga rituals, to gratefulness practices and even HANAH Coffee Boost in her daily cup of joe, Amy's routine helps her tune into her mind and body. 
With her mind feeling strong, Amy can focus on preparing her body. Due to past ACL injuries and patella tendonitis, Amy emphasizes the importance of preventing further injuries by building up the muscles around those joints. She doesn't stop there. Being that snowmobiling is a part of her everyday, Amy targets arms in addition to squats and lunges for legs with inter-prevention specific exercises.
What ties all of her routine and rituals together to enhance and optimize the winter season is a sense of direction. By writing goals, Amy tunes in once again to every aspect of herself — making space for the spiritual, physical, social, emotional and professional pieces to exist and work together rather than separately. Amy's holistic attention to all aspects of her life is a major reason that she can execute skillful cliff jumps, ski for hours on end and still have the energy to edit and publish digital content afterward. Going the distance for Amy means taking the time to do the mental, spiritual and emotional work.
This winter season, consider looking at your days as one big piece with little pieces working together rather than working separately. With this in mind, your routine, mindset, goals and season may flourish.
Want more winter content? Check out these blogs:
Like this post? Share it!