The mighty coconut: A modern comeback story
The mighty coconut: A modern comeback story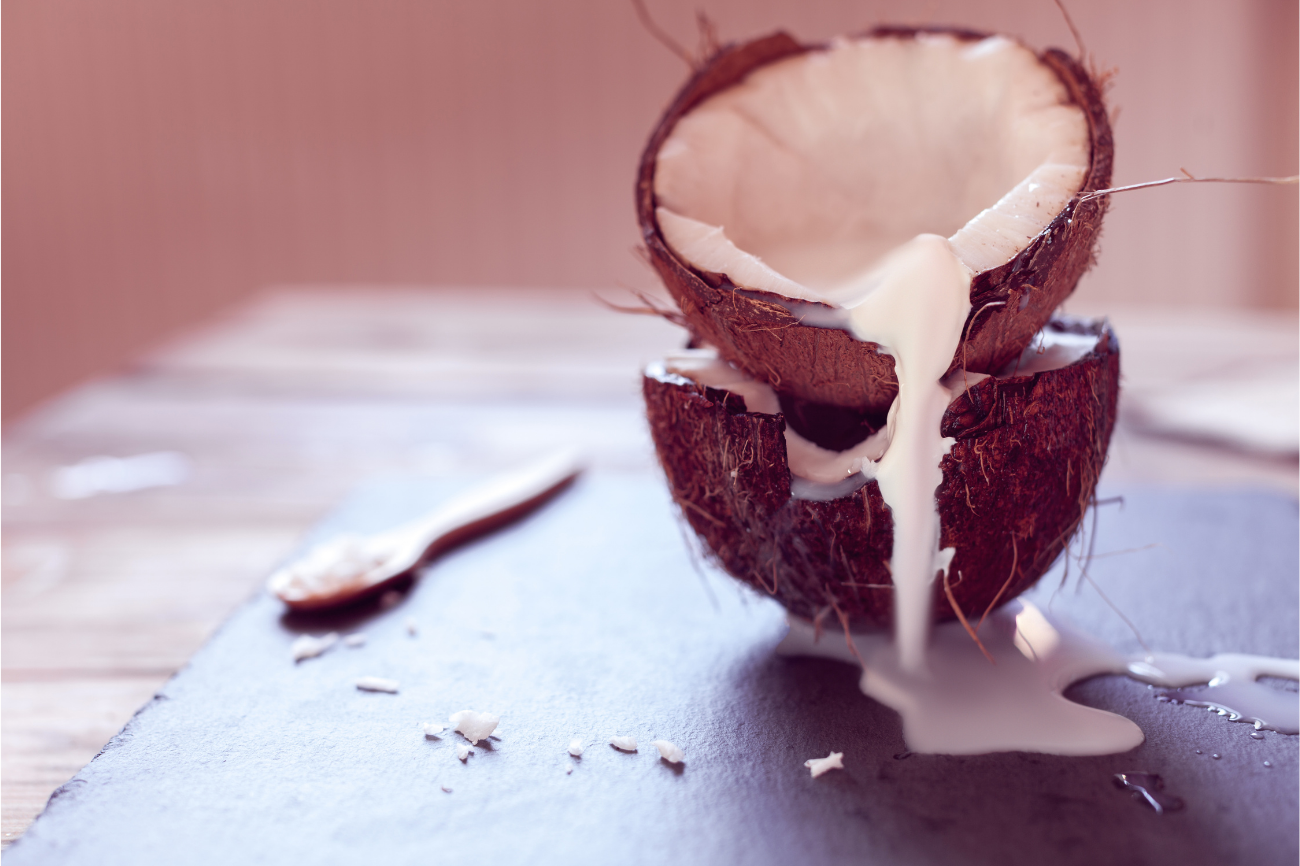 The coconut's long list of health benefits has lead to its rightful surge in popularity.
Coconuts are having a moment. In the last few years, the humble coconut has been fully embraced by the health and wellness industry, and can now be found in everything from cooking products to beauty routines. We cook with coconut oil, top our morning oats with coconut shreds and even use it as a moisturizer for our hair and skin. Coconuts are nutrient dense, fiber rich and packed with essential vitamins and minerals that can enhance our health and wellbeing.
So why HANAH? In particular, why HANAH's coconut milk powder? What makes HANAH's coconut milk powder so pure and of the utmost quality? Don't let the creamy texture and subtle sweetness fool you. Here, we breakdown the top health benefits of coconut milk and why HANAH's coconut milk powder, which is a key ingredient in both our Coffee Boost and our Coffee Boost: Beauty, not only reinforces those benefits, but strengthens them.
Supports digestion & gut health:
The medium chain triglycerides (MCTs) abundant in coconut are a type of saturated fat that can be easily digested. They quickly get absorbed by the liver, and can help boost your metabolism and nourish your digestive lining.
Anti-aging & anti-inflammatory:
When it comes to looking and feeling good, look no further than the coconut. Packed with vitamins and minerals, coconut has been shown to help hair growth and restore damaged hair. The MCTs and essential nutrients penetrate deep into the hair to moisturize and revitalize. Additionally, coconut's high amount of vitamin C and anti-bacterial properties may even help maintain elasticity and flexibility of skin as well as prevent breakouts. Some studies have suggested that coconut milk's MCTs may also help lower inflammation in the joints caused by aging.
Boosts immune system:
The coconut can help restore oxidative tissue damage, and contains a source of healthy fats, proteins and various vitamins and minerals. Along with MCTs, coconuts also contain a lipid called lauric acid, which can support the immune system due to its antimicrobial and anti-inflammatory properties. Lauric acid is a natural antibacterial, anti-fungal, and anti-viral and can help reduce candida, fight bacteria, and make it difficult for viruses to thrive. Coconut oil can also contribute to boosting a weakened immune system by improving white blood cell counts, which help the body fight viruses.
HANAH coconut milk powder
Like many ingredients used in health and wellness products today, coconuts lose the vital nutrients we listed above depending on the source and processing of the ingredient. For the best quality, the best source and the best process, HANAH turns to India.
India is the world's 3rd largest producer of coconuts and coconut oil. Kerala, named after the coconut tree with "Kera" meaning "coconut tree" and "Alam" meaning "land," is the number one state for the cultivation of the highest quality coconuts in India. The Coconut Development Board (CDB) in Kerala takes initiatives to improve coconut production to further ensure that the state produces the purest coconuts in the world.
Kerala is located in the southwest region of India, and the sandy soils of its coastal climate as well as heavy rainfall create a rich environment for prime coconut yields and dense oil content. This area of the world maintains not only authentic harvesting traditions, but strives to process the product using modern innovations without adulterating its natural profile. The milk is made into powder using CFTRI technology (Central Food Technology Research Institute, which is part of CSIR, Govt of India). India has been harvesting coconut for thousands of years, making it an easy choice for finding the highest quality coconut milk.
Coconut's natural benefits are endless, which is why keeping the ingredient as authentic and pure as possible is crucial in maintaining the nutrient. Working with traditional harvesters who hold the utmost respect for the land and process allows us to not only maintain the ingredient's authenticity, but optimize its benefits. To experience the purity, quality and results of HANAH's Keralan coconut milk powder, be sure to check out HANAH Coffee Boost and Coffee Boost: Beauty.
Like this post? Share it!