Morning ritual: how surfer Otto Flores juggles family, surf, and a busy schedule
Morning ritual: how surfer Otto Flores juggles family, surf, and a busy schedule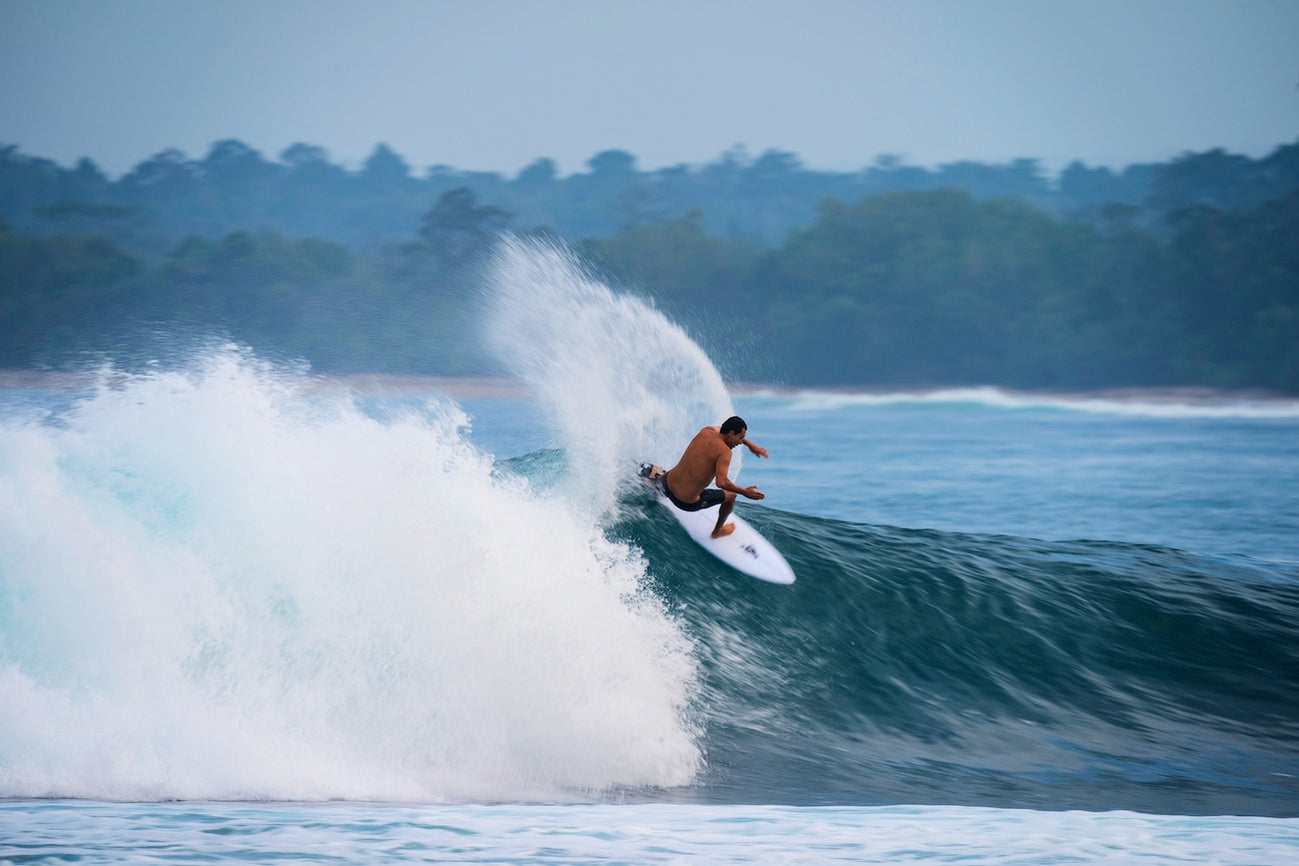 Otto Flores is a world-renowned surfer, HANAH hero, Patagonia ambassador, world traveler, husband and a father of two boys. From an early age, Otto tried many sports, but the ocean was always calling.  Raised in Puerto Rico, he quickly became a Junior National Champion and began representing his country on the world stage. As he matured, Flores realized that he was more interested in chasing world-class waves on the roads less traveled. With his committed approach, Flores worked with well-known photographers to earn stacks of magazine covers and accolades while honing his skills in all types of surf conditions. Flores continues to clock in as much tube time as possible, representing brands and organizations that make sustainability the first priority.
Despite his hectic schedule, Otto maintains a lifestyle that is rooted in a healthy core — family, surf, environmentalism and wellness. He spends most of his days in Carolina, Puerto Rico, where he's surrounded by fresh fruit and beautiful waves year-round, making it that much easier to live the dream.
Otto's Morning Ritual sets the tone for the day and prepares him for whatever is on the agenda. We caught up with Otto to get the breakdown on how he starts the day, and maintains his health for getting pummeled by the waves or the kids.
Tell us about your typical morning routine.
"It varies depending on travel and how good the waves are, but when I'm home in Puerto Rico with not so much on my plate, I do like to follow a routine. It all depends if I'm training or just having a relaxed day with the boys. I wake up early regardless, either for waves, to take my son to school or just to have some quiet meditation time before the crew gets after it. After that it's pretty much unpredictable. Every day holds something different." – Otto
What is one thing that's essential for you to start your day off right?
"Meditation is a key part of my day, and if I get to do it in the mornings, it opens up a different energy to flow on a more grounded level."
What do you usually eat for breakfast?
"Usually if I'm training I make a smoothie with all the fixings to energize my workout. If I go surf I have a light meal, like toast with HANAH ONE & coconut butter, and some yerba mate to be light and not weighed down. If it's a relaxed morning, I usually make a tea infusion that includes supplements that stimulate my mental state to be more efficient."
How do you take your HANAH?
"On the go I take HANAH ONE plain. I'm at the point where I crave that extra edge it gives me. When I'm depleted or coming down with something, it gives me that boost to keep going."
You've traveled the world to surf. What's special about Puerto Rico that makes you want to call it home?
"Puerto Rico is close to my heart. It's my culture. It's where I'm from. I identify with the flavor of this place. We call it "sabor." I'm grateful to be born in such a special place. I love Puerto Rico for its waves, for its people, and for its passion."
Do you get to enjoy time with your family in the mornings, or is the day too rushed?
"Family time is quality time. When I'm home, I take care of my youngest a couple of days a week. I would not want to miss that special time when he is young and learning new things. My wife works at home. We have a studio where she teaches pilates and yoga, and my oldest is at school a few minutes away."
What are your passions when you're not surfing?
"I love design. I wish I was better at it. I guess it will be work in progress. I enjoy photography and I'm super passionate about food. I definitely care about what I put in, while making it taste amazing.
Also, I care about the environment and what's going on in this day and age. My goal is to do my part and help create some kind of program in the future that can help stimulate conservation and sustainable practices. The ocean has given us so much and it's time we protect it."
Otto's Morning Surf Smoothie
Most of us have that go-to smoothie that gives us a solid start to the day. Jump into Otto Flores's kitchen and enjoy how he starts his day with this potent smoothie!
Ingredients
1 banana
1 cup almond milk
1 tablespoon

 

HANAH ONE
1 tablespoon peanut butter
1 tablespoon vegan protein powder
1 teaspoon chia seeds
1 teaspoon moringa powder
1 teaspoon spirulina
Garnish with chia seeds
Squirt of MCT OIL 
Directions
Combine all ingredients in blender.
Enjoy!
More about Otto
In 2018, Otto helped organize an Ocean Risk Management summit with the Big Wave Risk Assessment Group in Puerto Rico. His love of surfing and environmental advocacy have merged into his current career trajectory. He's become a high-profile ambassador for not only the Patagonia brand, but also for designating the 11th World Surfing Reserve on the Northwest Coast of Puerto Rico. In 2017, he additionally became a key Waves for Water Caribbean Hurricane Initiative leader in the aftermath of Hurricanes Irma and Maria, helping set a course for recovery with an emphasis on sustainability.
He is co-founder of Granito de Arena, a surf and environmental organization that works with youth in low-income coastal communities. The non-profit is dedicated to teaching kids to reduce and reuse plastic in a positive way – first by teaching them to surf, and then by educating them about the effects of plastic in our ocean playground.
Read this interview with Otto about the eight kilometers of Aguadilla coastline between Crash Boat and Surfer's Beach, known collectively as Punta Borinquen, that will become the Save The Waves Coalition's 11th World Surfing Reserve (WSR). 
Photos: Jeremy Koreski, Scott Soens & Otto Flores
Like this post? Share it!