Angel Collinson + Mark Carter share tips for training
Angel Collinson + Mark Carter share tips for training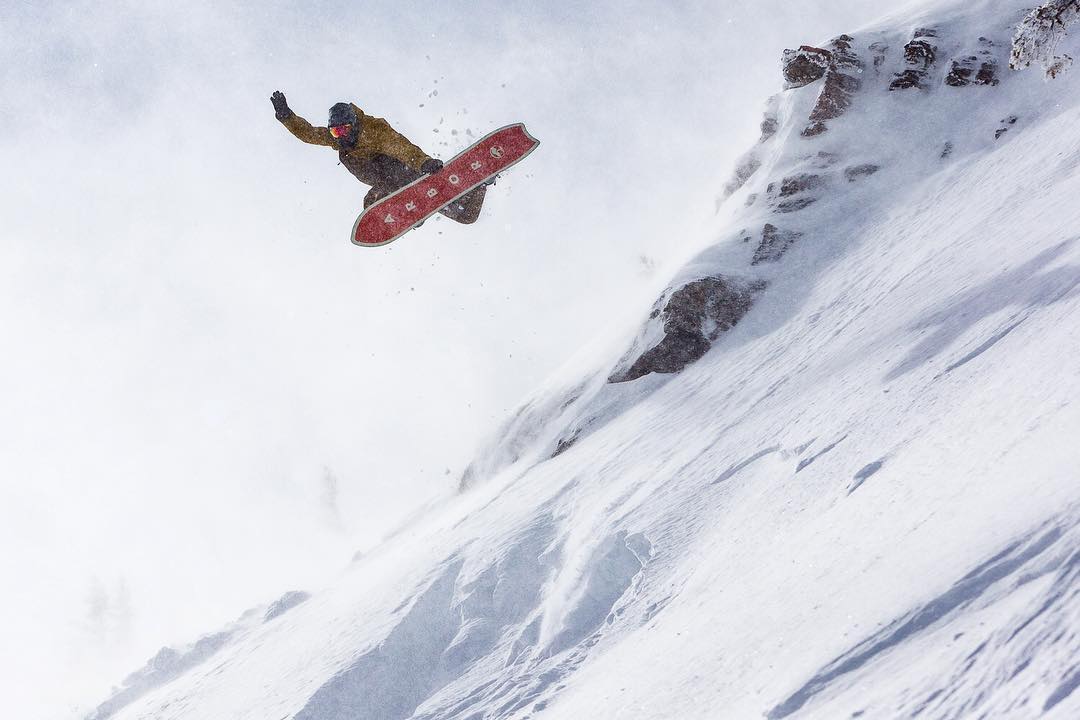 When does training for winter start?
Snowsport athletes push their bodies insanely hard in prep for—and during—the winter season. Life on the road chasing snow, hucking (and hopefully landing) cliffs, waking up for dawn patrols, spending long days on skin tracks and an occasional après party can be extremely taxing on the body and mind. That's where HANAH ONE comes in with adaptogenic superfoods that are easily incorporated into their daily routines.
We asked Angel Collinson and Mark Carter how they know winter has arrived and how they prepare for the winter season to ensure they perform their best and stay healthy. They have markedly different styles, starting with their choice of skis or snowboard (respectively). Let's take a closer look.
When does winter begin?
Angel moved to Alaska in early 2017, so her summers were shorter than most in the Western hemisphere. She recently moved back home to Salt Lake City, Utah this year and feels a solid winter season is just around the corner! 
For Carter, winter begins as he makes his annual pilgrimage to Jackson Hole, Wyoming. He packs up his life as a rancher in Ten Sleep, Wyoming, for a season tackling snow at Jackson Hole Mountain Resort and beyond.
Angel and Carter both agree that another indicator that winter is near is when the new gear from their sponsors starts arriving on their doorsteps (Carter is sponsored by The North Face, Arbor, Vans, Daneson and James Brand and Angel by Red Bull, The North Face, Volkl/Marker, Smartwool, Smith Optics, Black Diamond). The holidays often come early when you're a sponsored athlete!
Off-season and pre-season fitness
Of the two, Angel has a more traditional ski-racing background that started her on a strict training regime at a very young age. To combat the G-forces that skiing fast and landing hard have on the body, she does body-weight lunges, squats, and one-legged deadlifts. She kicks this program into gear alongside the ski film-touring circuit six to eight weeks prior to ski season as a supplement to the core strength work she does throughout the year. She also understands the importance of staying fit while on the road so does her best to stick to her normal routine even while traveling. 
"Despite being an athlete for most of my life, I treated my body like crap. Not intentionally. I travel a ton and trying to stick to a healthy regime on the road is an ever-challenging goal to pursue. It was normal to not drink enough water, drink lots of coffee, to not get enough sleep, eat foods I knew weren't great for me. I wouldn't get sick very often so I thought I was 'healthy' enough. I had a great mental well-being practice, but I was ignoring the basics of what my body needed.
Then, like many of us do, I started to take interest in vitamins and supplements, diet, trying to figure out small ways I could do better. But, it was all so overwhelming as it felt like I was spending a lot of money while throwing stuff at a wall to see what would stick. On top of that, regulations and sourcing for most products is questionable at best.
When I tried my first jar of HANAH ONE, it wasn't like angels started singing from heaven, but it was the first product out of everything I tried that I really noticed. I could feel a difference. Not long after I started studying Ayurveda my eyes started opening to the differences between the possibility of existing and thriving. I started realizing how much stress we put our bodies through which is not necessarily in line with what our bodies as biological organisms are designed for. Thriving CAN be the New Normal. We can be clear headed, happy, and energetic.
From this realization I started changing other lifestyle habits, which have increased my immunity, energy and overall happiness. Because of the initial helpful insight HANAH provided me, I am working on modulating the rest of my life which has increased my health to a point where now I use HANAH at times when I feel my body or mind has been particularly taxed — during a breakup, a long travel stint, long missions in the mountains...It's one of the only vitamins/supplements I use anymore. I see the potential for all of us to have this revelation with increased energy and connection with our bodies and mind. It has been one of the greatest gifts I've been given." – Angel Collinson
Carter stays fit year-round on his feet as a full-time rancher in Wyoming. Most days he also does circuit work consisting of pull ups, push ups, and planks. To improve his cardio in a low-impact manner, Carter focuses his activities on mountain biking. The long uphill slogs in the Big Horn mountains get his lungs more than ready for the skin track. Carter informed us that he always includes HANAH ONE in his morning smoothie and brings Go-Packs for himself and his friends to stay nourished on those long days in the saddle or on his board.
"Growing up watching mom make everything we ate from scratch gave me a true appreciation for healthy food. I'm always aware of what I consume. Since HANAH has come into my life I've never felt better. From the HANAH ONE, Vechur Ghee and Ashwaganda+ in my coffee every morning to the Turmeric+ and Cordyceps+ on big days, it's given me the balance and energy I need to maintain my lifestyle.
From long days working on the ranch to big days filming in the mountains, HANAH has been a game changer for me. It's a ritual I do every morning to maintain my energy and focus. I feel stronger and more dialed than I ever have. It's an amazing thing when the mind and body are in full sync. I feel confident and motivated to push myself to new levels in the mountains and on the dusty trail." – Mark Carter
Both Angel and Carter emphasized and understand the importance of rest days. While those may come few and far between when the snow is falling, it's something they take very seriously year round.
Five key takeaways
Don't lose sight of off-season fitness.
Pre-season preparation is key.
Nutrition is important to boost endurance and recovery during and after activity.
Don't underestimate the power of recovery days.
Don't miss; find ways to get a workout in even when you are on the road.
Check out these other HANAH blogs for tips on getting ready for the winter season:
Like this post? Share it!