HANAH ONE, the Tour of California, and the next generation of performance
HANAH ONE, the Tour of California, and the next generation of performance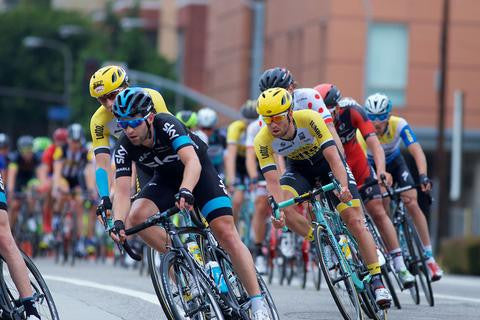 When the Amgen Tour of California kicks off on Sunday, 18 teams and more than 150 of the world's best cyclists will begin a tour that covers 800 miles in 8 stages, including over 60,000 feet of climbing. It's a feat of human performance and endurance that's hard for most of us to even comprehend.
We are proud to announce that HANAH will be on-site handing out our new single-serve Go-Packs and supporting athletes and cycling fans throughout the tour. We will be in the finishing villages in San Diego, South Lake Tahoe, Folsom, Santa Rosa and Sacramento.
The connection between an Ayurvedic superfood and the Tour of California may not be obvious at first glance, but HANAH's ties to cycling go back to the very inception of the product.  
HANAH CEO and Founder Joel Einhorn, a diehard cyclist and Ironman competitor, actually began developing the recipe while rehabbing from a training crash. "I used Ayurvedic herbs to speed my recovery," he says. "Once I got back on the road, which was roughly 12 weeks later, I discovered that my output was up 12 percent from before the accident."
Inspired by the results, Joel spent the next seven years working with Ayurvedic doctors to create a blend of wild-harvested herbs in a base of artisanal honey, ghee, raw sugar cane and sesame oil that would provide substantial benefits for everyday living as well as athletic performance.
Joel and other endurance athletes using the product report amazing results, including increased energy on the bike, reduction of lactic acid buildup for more stamina on longer bike rides, and improved recovery and sleep.
The connection between the ingredients in HANAH ONE and athletic performance is clear. Athletes are increasingly turning away from highly processed energy products, and honey is an obvious — and ancient — replacement for energy products. Call it the original energy gel. Honey, especially dark honey from the comb, contains large amounts of vitamins, minerals and antioxidants. It even contains protein. It also has a low glycemic index, which means that the sugars are released more slowly into the bloodstream. Why isn't honey being used in energy gels more often? Because it's expensive.
HANAH ONE also contains Ayurvedic ghee and sesame oil, which contains unusually high levels of magnesium, zinc and copper that help the body work at optimal levels during sport, mainly because copper is required for the production of red blood cells. Sesame oil is also naturally anti-inflammatory, and the high levels of copper can help reduce inflammation and strengthen the bones and blood vessels. (For a deeper breakdown of the ingredients and their benefits for athletes, read this post.)  
Even the fat from the ghee and oil helps. Not only does fat act as a transport for the herbal mixture, recent research indicates that endurance training makes athletes better able to use fat as a fuel. Fat is good for endurance, and has been the main fuel for humans for much longer than carbohydrates.  
"For me, it was only a question of when someone would finally create an all-natural, herbal-infused replacement energy gel," Joel says. "I've been working on perfecting the herbal energy gel replacement for a solid three years, everything from the right herbal mixture, to sourcing of the most potent herbs, to the right viscosity and the best packaging. It's been a long and difficult road, but we've finally reached the goal."  
HANAH ONE is the perfect food for cyclists and endurance athletes, and we're excited to hit the road this coming week and share our story with athletes and fans.
If you're lucky enough to be able to watch a stage of the Tour, come find us in the finishing village. We will be at stages 1, 5, 6, 7 and 8.


Want to try the Go-Pack? 

DISCLAIMER
Statements throughout this publication have not been evaluated by the FDA. These products are not intended to diagnose, treat, cure or prevent any disease process.
Like this post? Share it!