HANAH grass-fed ghee is a small miracle of superfood goodness
HANAH grass-fed ghee is a small miracle of superfood goodness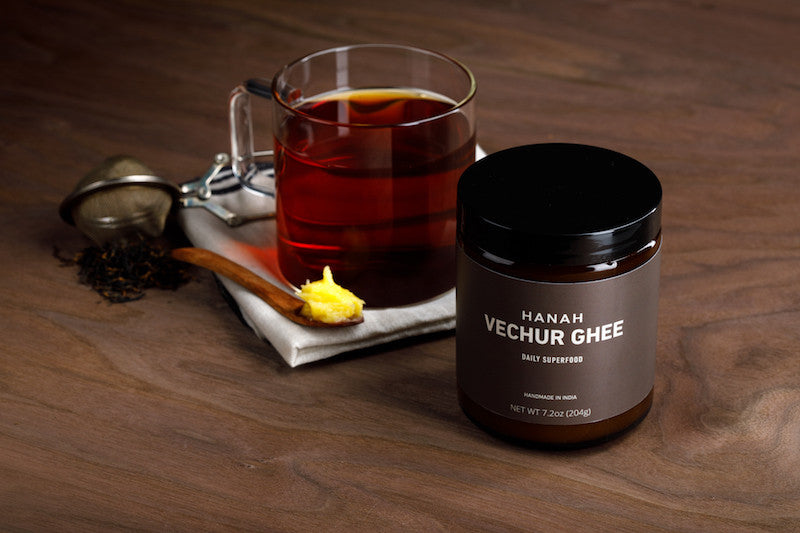 We are celebrating the launch of our powerful new Ghee superfood, HANAH Vechur Ghee, a small miracle of rich buttery goodness made from the highly-medicinal milk of the sacred Vechur cow. 
Not all ghee is created equal
Small Vechur cows graze on herbs and grasses from the mineral-rich lands in and around Kerala, India, and are uniquely able to synthesize these powerful nutrients, producing milk that is widely known for its medicinal content. With only a few hundred Vechur cows left in existence, they are on the verge of extinction. That's why we are working with local farmers and the Kerala University Veterinary Department to assist them in their conservation efforts. Vechur Ghee is in our first product HANAH ONE and we will now be offering a very limited supply to our existing customers. Through your purchase, you are helping to protect the Vechur breed from extinction.
Saving the Vechur cow
With only about 300 Vechur cows left, our mission is to not only make this special Ayurvedic ghee available to our HANAH family, but also to assist with conservation efforts in India to keep this breed alive and thriving. So we adopted a cow — her name is Narayani — and have partnered with farmers and the Kerala University Veterinary Department, which is dedicated to preserving these beautiful creatures.
Through your purchase, you are helping support local conservation efforts to protect the Vechur breed from extinction. We ensure that our practices sustain and support the farmers and local economy in Kerala — hopefully inspiring families to see the value in keeping the breed alive.
A spoonful a day
Ayurvedic ghee is made when fermented grass-fed butter is simmered to remove milk solids and impurities, leaving only the nutritional goodness behind. It is gluten free, easy to digest and safe for most people with lactose or casein sensitivities.
Ghee has a smooth, creamy texture and rich, nutty flavor, and is a versatile pantry staple that can replace butter, olive oil and coconut oil. Because of its high smoke point (250C or 482F), ghee is one of the best oils to use in cooking since it can won't break down into free radicals like others.
It also has a long shelf life and can be stored at room temperature. We recommend incorporating it into your daily routine to get the full health benefits. Here's one of our favorite recipes with HANAH Vechur Ghee, our HANAH Super Brew.
 Check out these other blogs and recipes with HANAH Vechur Ghee:
DISCLAIMER
Statements throughout this publication have not been evaluated by the FDA. These products are not intended to diagnose, treat, cure or prevent any disease process.
Like this post? Share it!