HANAH ventures deep into Bhutan for the Tour of the Dragon mountain bike race (Part 2 of 3)
HANAH ventures deep into Bhutan for the Tour of the Dragon mountain bike race (Part 2 of 3)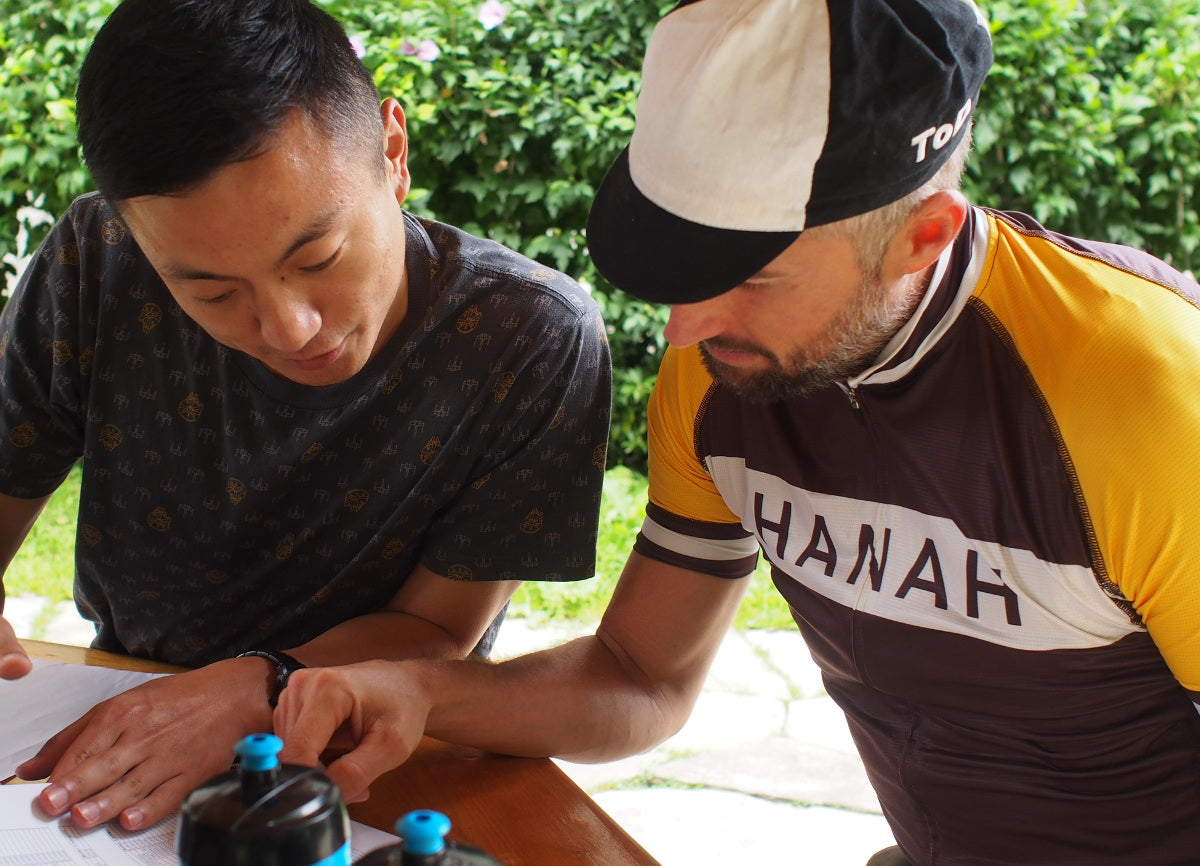 Part 2: Arriving in the Land of the Thunder Dragon
HANAH will be returning to Bhutan to ride the 9th annual Tour of the Dragon on Saturday September 1, 2018. The Tour of the Dragon starts in Bumthang, Bhutan, and travels 270 km over four Himalayan mountain passes before finishing in Thimphu town square. If interested in joining us this year or next to experience one of the most magical kingdoms in the world, please reach out to us directly at ambassadors@hanahlife.com.
In this second of a three-part series on the Tour of the Dragon, HANAH founder Joel Einhorn shares his experiences prepping and participating in what many call the world's most difficult one-day mountain bike race. In case you missed part one, read it here. 
Bhutan: Land of the Thunder Dragon
By Joel Einhorn, Founder of HANAH
After a few flights and stopover in Delhi, we arrived in Bhutan early Saturday morning. The race kicks off in just seven days at 2:00 in the morning. This gave us just enough time to get our gear together, acclimate slightly and drive 270 km to the starting town of Bumthang. Upon arrival we gently opened our bike bags and prayed that nothing broke en route. We were in luck, everything seemed to be in order and good working condition. Our lungs however, were not so fortunate. We were staying at 2,700 meters (8,100 feet). I noticed that climbing a flight of stairs had me winded and my energy levels were extremely low. This combined with cold, rainy weather had our spirits about as low as they could be. But there was more, much more.
The journey to the start line
When the sun finally broke on Tuesday, we headed from Bhutan's capital Thimpu, where the finish line would be, to the town of Punakha. One of the first things we noticed was the final climb of the race. It was 50 km (32 miles) and was never ending, steep, dangerous, and contained five different microclimates, most of which consisted of steady rain and cold temps.
One of the most crucial elements of preparation for a race of this type is the mindset. I knew it was going to be tough, and we were as prepared as we could be. The final, and most important element was seeing the course and getting our minds in the right place for race day. This would prove to be our toughest challenge yet.
Upon arrival in the Punakha valley, we were happy to be at a lower elevation and greeted by warm sunny temperatures. We managed to get in a 30 km training ride, which was absolutely stunning. This brought our spirits up a bit.
We drove from Punakha to Bumthang where the race begins. While we knew the road was in the process of being rebuilt, we were not, until now, aware of its true condition. We found out quickly.
The road was majestic, carved into the mountains, which climbed up to 5,000 m (15,000 feet). As it was monsoon season and raining daily, there were waterfalls everywhere, along with massive landslides. Engineers, construction, clean up crews and rebuild teams were dotted everywhere along the route. We had to stop numerous times as the roads had either slid away, fallen 3,000 feet straight down or were loaded with huge boulders and debris that had fallen from terrain above.
We also could not help but notice how dangerous the route was. This was a no-fall zone, the road was without shoulders or guard rails. It all made for epic scenery but extremely perilous travel. And then there was the mud. Lots of it, and very thick. We could not believe what we were seeing. This was a fitting cherry on top of an already seemingly impossible race cake!
It took us 15 hours to drive the route by car from the finish to the start. It's important to mention our drivers. MK and Tshering were quickly becoming our trusted companions and friends. Not only were they extremely knowledgeable about the route and all the landmarks, they were incredibly accommodating and went out of their way to make sure our trip was as comfortable as possible. So it goes in Bhutan, the land of happiness.
Bumthang valley: Bhutan's spiritual heartland
We arrived in Bumthang, often called the spiritual heartland of Bhutan because of the number of ancient temples and sacred sites. Our heads were full of thoughts, excitement, a little fear and lengthy to-do lists. We still needed to get in a few training rides, fix a few bits and pieces on our bikes, shoot footage and interviews for HANAH, and get the bikes ready for filming during the race. Anything and everything can, and often will, go wrong with either the bikes or the cameras, so we had to be prepared.
The day before the race His Royal Highness Prince Dasho Jigyel Ugyen Wangchuck lead all the race participants on one of the most surreal and humbling journeys I've ever been on. We visited two sacred temples, Jambey Lhakhang and Kurje Lhakhang, both built in the seventh century, and then rode our bikes to the sacred Burning Lake, where its mystical story of holiness dates back to the 15th century. At this point we prayed, gave offerings and asked for blessings of safety for the ride that was to commence the next day. Needless to say, this was a highlight that put the entire trip into perspective. It felt incredibly personal and special that HRH Prince Jigyel included us all on this significant mission.
Tensions started to run high as we prepared for the race day. We were busy and stressed with final preparations. We also learned that the only food provided along the way was going to be bananas and chocolate, which would not be enough for us during a long, mountainous 270 kilometer race. We needed to plant food along the route somehow, which I prepared to do in the drop bags that were to be left at five different locations along the way. I prepared BCAA powder in plastic bags, HANAH ONE Go Packs, cacao powder with freeze dried mashed potatoes, Isotonic drink powders, bottles full of rice and oat porridge, and electrolyte pills. Continuous nutrition and energy being one of the more important aspects of the race, we had to get it right.
It was also a challenge to define exactly where the drop points should be during the race and having to reverse engineer a very confusing race manual did not help. These are the details that would make or break the race for us and that added a lot of time to our preparation. It's these same small details that start to add up, stress the mind and thus interrupt our much needed sleep. Things were tense, to say the least.
Months of research and meticulous planning, knowing that some things would inevitably go completely wrong and knowing beyond a doubt that this was going to be one of the toughest rides I had ever embarked on stressed my mind and body to its limit… and this was before the race actually began! Needless to say, my immune system had been taking a beating and I got a serious chest infection. The race started at 2:00 a.m., so we tried to get a few hours of sleep. I tossed and turned, my mind racing, and to make things worse, I was coughing horribly. I could barely breath, especially since we were already at 3,000 meters (9,000 feet). I felt like absolute rubbish.
To be continued....
In the event you plan to go on this epic adventure at some point in the future, or in the case you are just curious, here are some of Joel's nutrition and gear tips:
FOOD: Race Day
15 HANAH ONE Go-Packs 
12 HAMMER electrolyte pills
6 packs of Skratch Labs electrolyte drink
12 granola bars
2 bottles of rice porridge, pre made with salt
4 cups of tea
10 bananas
3 bottles of freeze dried mashed potatoes
3 servings of Gnarly BCAA powder
15+ bottles of water
Clothing: Essentials
Velotoze rubber helmet cover
Velotoze rubber full length shoe cover (LIFESAVERS)
Warm Windstopper gloves
Merino neck gaiter
Windstopper headband
Knee covers
Arm warmers
Bibs and over-shorts
Merino jersey and shorts
Mesh undershirts
Cold weather jacket
Plastic thin rain jacket
Tech Essentials
Norco 29'er Hardtail MTB
Lights! Enough power for two nights 
Sidi Dragon MTB shoes
Allen keys
Extra tires
Extra tubes
Vaseline
For the rest of the story
Like this post? Share it!