Prepping for Bhutan's Tour of the Dragon mountain bike race (Part 1 of 3)
Prepping for Bhutan's Tour of the Dragon mountain bike race (Part 1 of 3)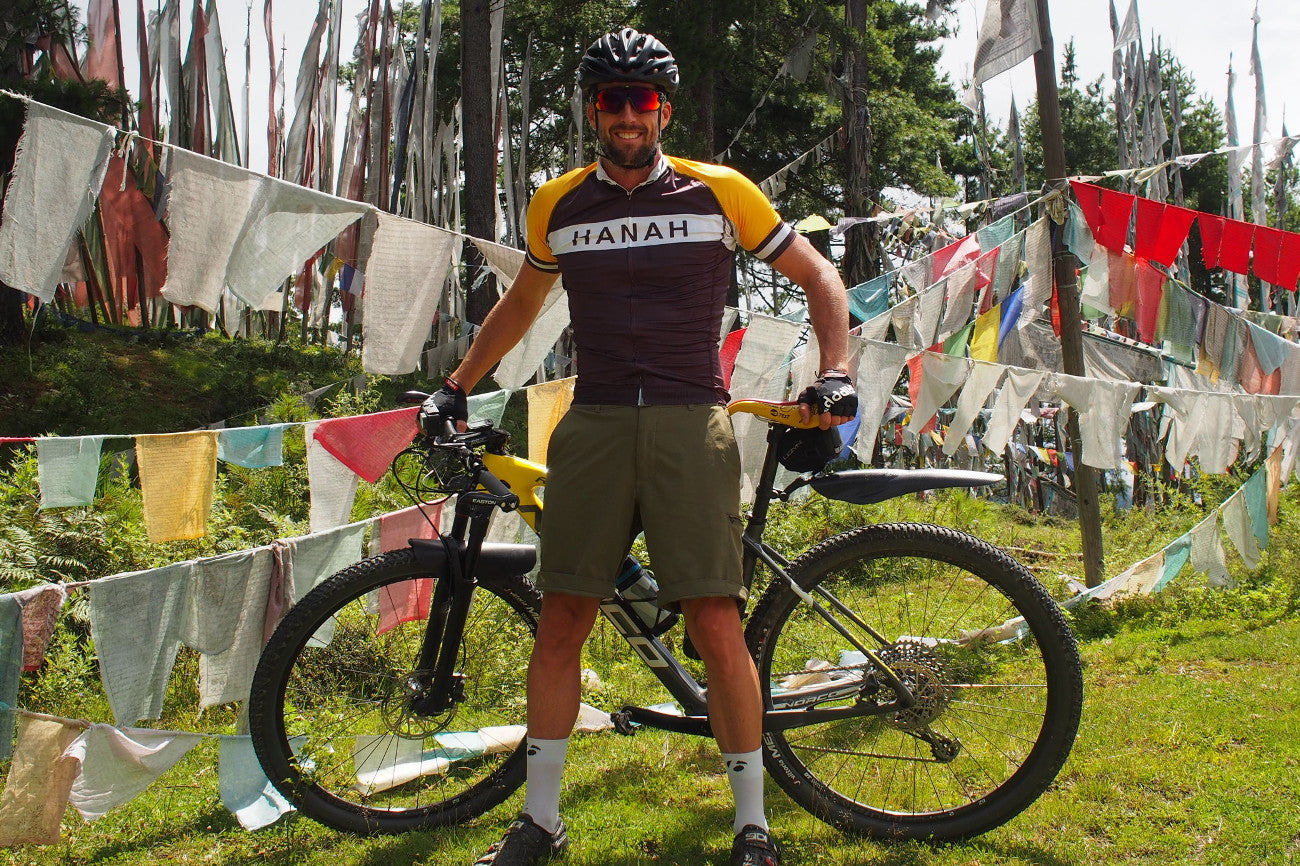 Bhutan is one of the most magical kingdoms in the world, a land of magical herbs, sacred lakes and mountains, lost villages and deep mythology. In 2019, Bhutan is hosting their 10th annual Tour of the Dragon Race and we are honored to not only be sponsoring the event, but working closely with the Kingdom in sourcing the ingredients that go into our HANAH products.  
In the first of this three-part series on last year's Tour of the Dragon, HANAH Founder Joel Einhorn shares his experiences prepping and participating in what many call the world's most difficult one-day mountain bike race. Part 2 can be found here, part 3 here. 
Part 1: Prepping for the Tour of the Dragon
by Joel Einhorn, Founder of HANAH
It was July 2017. I'd committed. There was no turning back. It was only a few months before that I'd heard about the Tour of the Dragon, a 270 kilometer (168 mile) mountain bike race across the Himalayan kingdom of Bhutan, the only country governed by Gross National Happiness. The race is the first Saturday of September, which meant I had eight more weeks to prepare, and I wasn't feeling ready.

I knew that if I was going to do the race, I wanted to also tell the story of the Tour of the Dragon and its sheer magnitude so that others could learn about it. That meant I'd need to bring a few people along for filming and production support, which added another layer to the project and a whole lot more work. I'd made the decision and now I felt I was in over my head. There were so many variables to take into consideration in order to finish what is considered the toughest one-day mountain bike race in the world.


Distance. Riding a bike 270 km is not something one can simply just pick up and do. You must have a very solid base in your legs, and be riding on a bike that is perfectly fit, with your cleats in the right place. An effort of this type will stress every part of your body, and require around 100,000 pedal strokes. It's very easy to destroy the ligaments in your knee, so this was to be avoided. Based on previous experiences, I knew that I had just about the minimum required kilometers in my legs to make this happen. This meant I needed to be smart in all other aspects of preparation and race day.

Climbing. Bhutan is a land of high mountains and deep valleys, and the 270 km route demands 8,000 meters (26,000 feet) of climbing. This is completely absurd. The hardest stages of the Giro d'Italia or the Tour de France usually cover 5,000 meters (16,400 feet) of climbing in a day, and that is on ultra light, super fast road bikes on perfectly paved roads. So 8,000 meters of climbing is a massacre. It's basically riding to the top of Mt. Everest from sea level. In a single day.

The only way to get better at climbing is to climb, and in big mountains. As my work and travel schedule was hectic, I wasn't able to get to any big mountains before the trip. The best I could do was a two-week training camp right before the trip in the foothills around Prague, Czech Republic. I was cutting it very close, as the body breaks down differently when you're pitched at a sustained eight degrees and pounding pressure into the pedals.

I also looked into the most efficient dry land training I could do to prepare, the minimum effective dose. Luckily I was able to get a few sessions in with Jason Walsh, of Rise Nation. Jason is not only a total badass (read his full bio on our Heroes page here), but he also trains some of the top actors on the planet for movies that demand high levels of fitness (think Bradley Cooper for "American Sniper," Matt Damon for Bourne, and Emma Stone for her role as Billie Jean King). Jason knew exactly what I needed, and gave me a 30-minute routine that used only high tension rubber bands and body weight. This was a huge addition to my training, and I used them religiously every day for six weeks leading up to the race.

Altitude. Oh altitude. I remember arriving in Telluride a few years ago, forgetting that I had been at sea level for the last two months. I got out of bed to brush my teeth and had to take a break mid-brush and get my breath. So is the hardship of altitude. There's no way around it, and the Tour of the Dragon is way up high in the Himalayas, with an average altitude around 3,000 meters (9,800 feet). The human body takes about two to three weeks to properly adjust, and I did not have the luxury of this time.

I spoke to a few friends who regularly do expeditions, and also to Hypoxico, which rents out altitude tents to explorers who are going up high. The general consensus was that I was taking a risk by only getting to Bhutan seven days before the race, but this was just enough time to get the body slightly acclimated and the chances of getting serious altitude illness during the race was low.

One never knows how the body is going to react, so I had to play this smart. I arrived 7 nights before the race. The plan was to sleep at around 2,500 meters (8,200 feet) for the first two nights, taking it easy with no exercise and then slowly starting to get the body moving and go up a bit higher. I must admit, the first two days were not very encouraging. Not only was it raining, but even climbing a set of stairs proved difficult.

The road. I had never seen the road upon which the race was taking place. I heard it was a road, so in my mind we would be riding on gravel mountain pavement. I was a bit off. There are no flat spaces in Bhutan, and the mountains are extremely steep. The road is a feat of engineering carved out of the side of these majestic mountains. We had a few things going against us in this year's tour, one being that Bhutan is widening the road that happens to be the race course, so it's a full on construction zone. That means there is no asphalt, only dirt. And since it was the end of monsoon season with lots of rain still falling, we were dealing with landslides and mud—a whole lot of mud. Then, there was the added danger of zero guardrails, so falling meant certain death. The entire course is without question, a no fall zone.

We drove the route from the end to the start a few days before the race and it took us over 15 hours, in a car. My wife Raegan almost had a heart attack on the drive knowing that we would be racing it in a few days. The views though, were absolutely stunning. This was a race high up in the clouds, with glimpses of massive waterfalls, raging Himalayan rivers, monkeys, ancient fortresses, temples and ceremonial stupas.
The weather. Mountain weather is always unpredictable, especially during monsoon season. This was going to make the race even more difficult, as the temperature difference over the course of the day could be up to 70 degrees F (21 C) or more, including heavy rain. Selecting the right clothing is crucial, as you can overheat on the ascents and get so cold on the descents that you can't feel your hands. We had to choose wisely.

Bike tech. It's impossible to find bike parts (besides duct tape) in the middle of the Himalayas, so we needed to have everything with us, and on the bike. This added another truckload of work to the schedule and a lot of weight. We needed a spare of everything such as tubes, tools, mech hangars, spare screws, a knife, zip ties, duct tape, lights for riding in the dark, spare tires and so on. I worked with the team at The Bike Shop Santa Monica to make sure I was as prepared as possible before I headed to Bhutan.

Food. The right food is 50% of a ride such as this. One also does not want to start switching food two weeks before or during the race. This meant we needed to take backup with us. I brought about 30 pounds of food, drink and supplements for me and my race partner to Bhutan, but this wasn't enough. We would need to eat a lot leading up to the race, make sure we did not get ill, and then find some real food to store along the way during the race.


I also offered to help sponsor the race by providing riders with our flagship product HANAH ONE, an Ayurvedic herbal wellness formula. HANAH ONE contains several herbs that support body function at altitude and also increase endurance and aid recovery. I thought the riders would appreciate another food source, and it would be a great litmus test for the efficacy of our product considering the extreme circumstances of the race.

We were also fortunate that Bhutanese food is not only delicious, but also happens to be perfect fuel for a race like Tour of the Dragon. We loaded up on staples like Himalayan red rice, local organic vegetables, porridge, yak butter tea, and our favorite—Bhutan's national dish ema datshi, a spicy mix of chilis and local cheese.

Training. I went to Prague for a two-week training camp with my race partner/cameraman, and I did nothing but ride my bike, every day, and prepare the bike and cameras technically for the race. This took every single minute of the day. I ended up riding about 1,200 km (800 miles), and spending about 15 hours at the bike shop working with the mechanics and dialing in our extras. As per usual, it was down to the wire. I managed to get all my luggage packed by 3:00 a.m., mere hours before my flight to Bhutan.


To continue reading, part 2 can be found here and part 3 here. 
FOOD: Race Day
15 HANAH ONE Go-Packs
12 HAMMER electrolyte pills
6 packs of Skratch Labs electrolyte drink
12 granola bars
2 bottles of rice porridge, pre made with salt
4 cups of tea
10 bananas
3 bottles of freeze dried mashed potatoes
3 servings of Gnarly BCAA powder
15+ bottles of water
Clothing: Essentials
Velotoze rubber helmet cover
Velotoze rubber full length shoe cover (LIFESAVERS)
Warm Windstopper gloves
Merino neck gaiter
Windstopper headband
Knee covers
Arm warmers
Bibs and over-shorts
Merino jersey and shorts
Mesh undershirts
Cold weather jacket
Plastic thin rain jacket
Tech Essentials
Norco 29'er Hardtail MTB
Lights! Enough power for two nights 
Sidi Dragon MTB shoes
Allen keys
Extra tires
Extra tubes
Vaseline
For the rest of the story
Like this post? Share it!